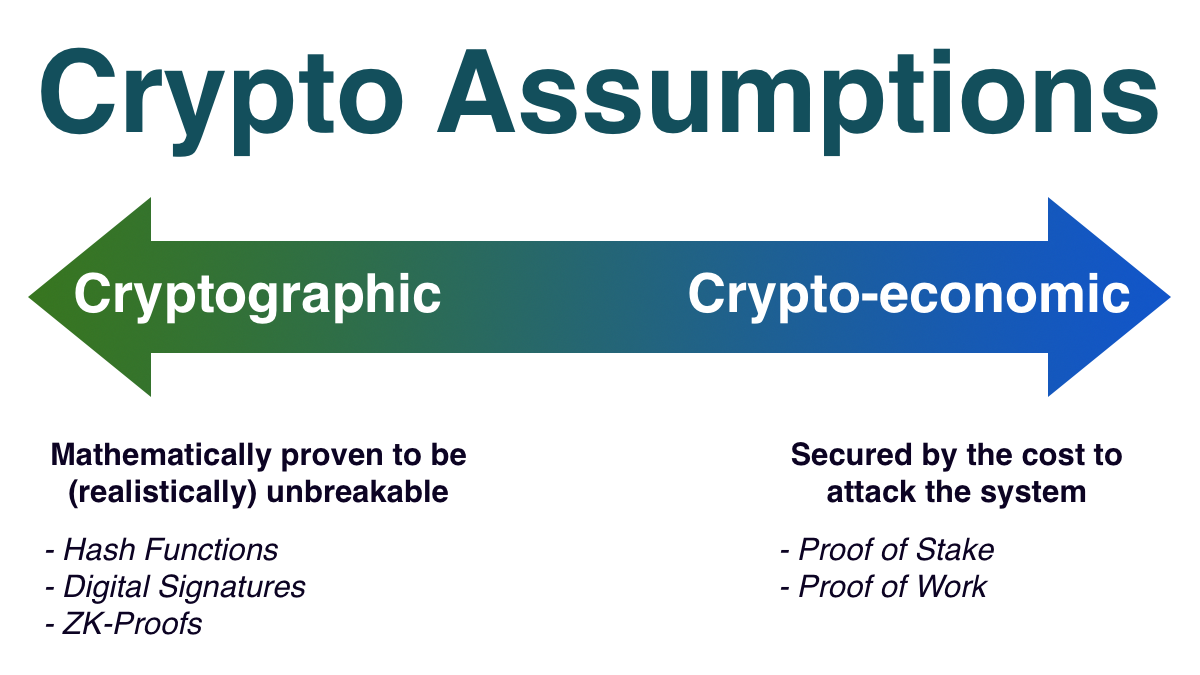 ¶ Crypto-Economics and PoS
Ethereum is the World Computer, a single, globally shared computing platform that exists in the space between a network of 1,000s of computers (nodes).
These nodes are real computers in the real world, communicating directly from peer to peer.
The purpose of the greater Ethereum apparatus is to offer a single shared computing platform - the Ethereum Virtual Machine (EVM).
The EVM provides the context for transactions (computation); everything you "do" on-chain happens within the EVM.
Each node runs a local version of the EVM, which is then held perfectly in sync with every other copy of the EVM through a process called Proof of Stake (PoS).
Any individual EVM is a window into the shared state of the World Computer.
There are a lot of ways to think about PoS, but let's take a step back and think big picture.
Taken all together, Ethereum is decentralized and untrusted, but if you look under the hood you'll find that every step is predicated on a centralized entity (validator).
Consider a block proposal. Every slot, a single validator, running on a single machine, controlled by a single person (or company) is chosen to have a full monopoly over what is included in the next block...
...an action that gives them (temporary) control over the EVM.
The block proposer could submit a block that grants them 100,000 ETH. Or maybe a block that changes the Chainlink oracle price of BTC to liquidate their Euler Finance counterparties.
The proposer has complete control over a trustless system; is this a paradox?
The answer, of course, is that we are not trusting the proposer - that's precisely the function of PoS.
Yes, the proposer has complete control over the EVM, but in order to get that control they needed to put ETH at stake (risk of slashing).
PoS has been specifically designed so that the punishment for misbehaving has more economic consequences than it could possibly be worth.
We don't need to trust that the proposer is a good actor, we just need to trust that they are (economically) rational.
By forcing users to "stake" capital, thereby putting it at risk of confiscation in the event of bad behavior, PoS transforms a trust assumption into an economic assumption.
Or, more specifically, a crypto-economic assumption.
Ever heard someone refer to Ethereum as "trustless?" Trustless is simply shorthand for the crypto-economics of PoS.
Technically, there is plenty of trust within the network. But the trust is not in the good faith of their peer nodes, its in the cold, hard numbers.
If you Google crypto-economics, you'll find a growing body of research that covers many topics.
Here's the tl;dr: crypto-economics studies how we can combine cryptography and economic incentives to create robust systems that are independent from human trust.
Think about crypto-economics in contrast to cryptography.
Cryptography is built on provable mathematics; there is nothing to trust other than the core properties of the universe.
Crypto-economics introduces trust, but mitigates it with economic incentives.
By recognizing Ethereum PoS as a crypto-economic system, we can easily realize that PoS is applicable to many more systems than just securing a blockchain.
We can use this same principle to transform ANY centralized trust assumption into a crypto-economic one.
Take, for example, an oracle service.
¶ PoS and Oracles
An oracle is a smart contract that has the current copy of whatever data it holds. For example, the Chainlink ETH oracle is a smart contract that updates with the latest market price of ETH every block.
The problem: anyone who relies on the data within the oracle's smart contract is implicitly trusting whoever submitted the data in the first place.
What's the point of entering the trustless EVM if you need to trust everyone who supplies you with data?
The solution is simple: we simply create a Proof of Stake system!
Issue a new token
Only allow people staking token to update the smart contract
Slash (remove a portion of staked capital) any participant who provides provably false data
Just like with Ethereum, this will create a "trustless" solution. Users don't have to trust the intentions of the oracle providers, they know that any malfeasance will cost them dearly.
In fact, they can directly quantify the crypto-economic security.
While this quantification depends on the specific system, the Byzantine General's problem gives us a good heuristic for PoS systems: no system can be attacked without destroying AT LEAST 1/3 of staked capital.
And so, the more staked capital, the more security.
At this point you understand the basics of crypto-economics, especially in regards to (Ethereum) PoS.
I cannot overstate how important this is - it might be the biggest gift of our entire industry: PoS allows us to transform trust requirements into economics ones.
But here's a thought you should be having: the power of PoS is directly dependent on how much capital you can convince to opt-in to staking.
Each time a new centralized service launches a PoS system, it fractures the capital available for trustless trust.
If we just have Ethereum, Chainlink and maybe a few more PoS services, we will be ok. Each PoS network can be large and capitalized enough to sufficiently protect and de-trust each service.
But does that put a soft cap on the number of these services?
I believe that without a solution, the answer is yes.
Good thing Sreeram Kannan has a solution: EigenLayer.
Tl;dr EigenLayer will create a marketplace for re-staking, creating general-purpose decentralized trust.
All concentrated into ETH.
If you look forward and squint hard enough, you care just barely make out what the @ethereum endgame looks like.
Having trouble making it out? EigenLayer makes it much more clear.
ETH is the pristine collateral of trustless trust.
Source Material - Twitter Link